Are you a first-time NBI Clearance Applicant?
My friend needs to submit her NBI Clearance (also known as the Philippine Police Clearance) to complete her requirements for the filing of her Permanent Residence application to the Immigration, Refugees, and Citizenship Canada (previously the Citizenship, Immigration Canada). My friend was asking about the required documents for the issuance of their NBI.
I have no idea what the specific requirements are for her NBI Clearance Application. Hence, as a common reaction, I said, "Google it!"
Google gave me chunks of websites to look at. One thing that caught my attention is the Philippine Consulate General website wherein I thought I can find the list of requirements.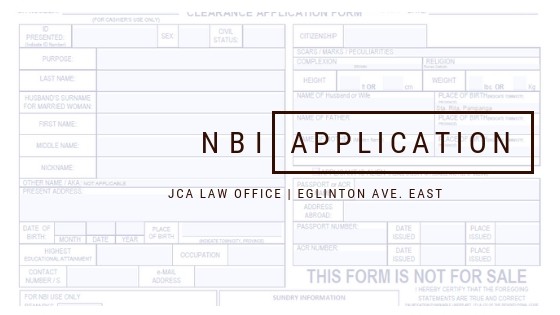 According to the Philippine Consulate NBI Clearance website, the applicants will be asked to complete the NBI Clearance Form No. 5, provide 1 piece of a 2 x 2 ID picture and the photocopy of the bio-page of the applicant's passport. The Consulate officers will then take the applicant's fingerprints accordingly. You will be charged $33.75CAD for the NBI Clearance cost and the form will be released the same day, depending on the number of clients the Philippine Consulate has. Once released, you must personally send it to the NBI Philippines for processing. You have to look for your authorized representative there who would have to bring your requirements to the NBI Office in Manila. Your representative will then process it for you or you may look for an agency that can process your NBI Application, like the JCA Law Office.
You may check the Philippine Consulate General website for further details or email us at [email protected] for inquiries on the fast and convenient way to process your NBI Clearance Application.