About Us
This page is maintained by our legal team at JCA Law Office Professional Corporation based in Toronto, Ontario. It is dedicated to providing an affordable, fast, and reliable option for getting an NBI certificate in Canada.
It also provides a comprehensive but easy-to-understand online guide to the process of obtaining an NBI clearance certificate from outside of the Philippines.
JCA Law Office Professional Corporation started in 2016 with the goal of making quality legal services more accessible for Filipino-Canadian communities in Toronto. Since then, support from "kababayans" has been overwhelming which allowed us to expand our lines of legal services. After more than 5 years, JCA Law has served thousands of satisfied clients from all of Canada's provinces and territories.
NBI Clearance
Delivered in two weeks or less
(Terms & Conditions apply.)
Police Clearance
Hong Kong, Taiwan, Singapore Cyprus, UAE, Israel & other countries
NSO/PSA Certificates
Birth, Marriage, Death, Cenomar & Advisory on Marriage
Notarial Services
Affidavits, SPA, Invitation Letter & other legal services.
Certified true copy documents
(Consularized/Red Ribbon/Authenticated)
Thank you for your legal services with the startup in Alberta!
~ KAREN-ZUMARRAGA-THIBEAULT
Thanks for all your assistance with our real estate matters. Jake had been very nice and accommodating to us. More success to JCA Law in all your future endeavors. God bless!
~ GINKEE JANE
A very good Lawyer! We went for notarising an invitation letter.
~ SUBBU CHINTALURI
Our Team
Professional Team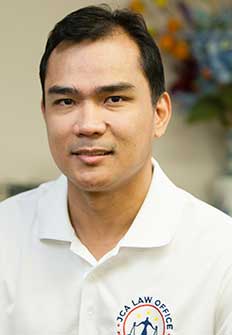 Josef-Jake Aguilar
Barrister | Solicitor
Ontario Notary Public
Josef-Jake Camacho Aguilar or simply "Jake" to clients and friends, is a general practice Filipino-Canadian lawyer and is the founder and CEO of JCA Law Office Professional Corporation.
He started his professional career in the Philippines as a stock trader right after becoming a Certified Public Accountant (CPA). Having the urge to learn more about how the legal system works, he decided to take up law and passed the 2005 Bar exams. He was admitted to the Integrated Bar of the Philippines in 2006. He was a civil servant for 12 years and practiced corporate law for several years before migrating to Toronto, Ontario in 2012 with his family. He was then accepted in the Internationally Trained Lawyers Program (ITLP) of the University of Toronto, Faculty of Law and became a Barrister, Solicitor & Notary Public for the Province of Ontario in 2016. Seeing the need for lawyers with genuine concern in clients, Jake likes to imbue the legal practice with a touch of Filipino hospitality and is committed to resolving the client's legal matter while making them feel welcome in his office, providing a positive experience for all. His practice includes immigration, family, real estate, wills & estates, corporate, civil and criminal law.
Jake's other credentials include being a current member of the Chartered Financial Analyst (CFA) Society Toronto, CFA Institute (Virginia, USA), and Philippine Institute of Certified Public Accountants (PICPA). He is also a graduate of San Beda College and Philippine Law School and loves spending some quality time with his wife and three kids. He has been a road cycling enthusiast for several years now and has constantly joined Toronto's annual Ride for the Heart every spring.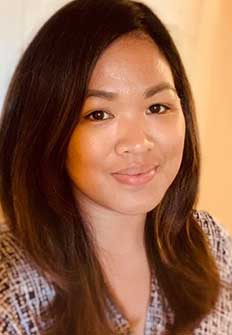 Mojet Lizardo
Senior Legal Assistant | Commr. Of Oaths
Is the Senior Legal Assistant and Commissioner of Oaths for JCA Law Office. She has been working in JCA Law Office a few months right after its inception in April 2016.
Mojet has a vast professional experience in both the corporate field and the government sector, dating back from when she was an intern at the Senate of the Philippines, Smart Communications Corporate Office and Public Attorney's Office-Manila.
Her involvement as a lawyer-assistant in the Corporate Counsel of Directories Philippines Corporation enhanced her knowledge in practicing corporate law, civil law and intellectual property law. She further sharpened her legal writing skills when she worked as a legal editor and document reviewer for some of the top Legal Process Outsourcing (LPO) and Business Process Outsourcing (BPOs) in Manila, such as EMCI and American Discovery.
She has the degrees of Bachelor of Laws and Bachelor of Arts Major in Legal Management both from the University of Santo Tomas and has been admitted to the Integrated Bar of the Philippines in 2009. When not working, she spends her time with her son and husband playing basketball and soccer.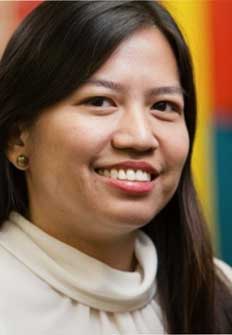 Evangeline Aguilar
Content Writer
Salesforce Administrator
Evangeline, or more known as "Gin" to her family and close friends, is a Certified Public Accountant (Philippines) with more than 15 years of work experience in the field of Finance, Banking and Project Management.
Prior to migrating to Toronto, Canada with her family in 2012, Gin was a Team Lead at Deutsche Bank (DB) Professional Shared Services in the Philippines for several years, which gave her the opportunity to be internationally trained at DB offices in Singapore, London, and New York.
She worked for almost seven years as a Project Controller and Business Manager at Royal Bank of Canada (RBC) before eventually deciding to pursue her passion – to write and blog, and assist Jake in the day-to-day activities in the office.
Gin is a graduate of St. Scholastica's College in Manila and is currently taking up short courses in Digital Communications Strategy and Social Media at University of Toronto's School of Continuing Studies. She enjoys traveling and discovering new places with Jake and their three kids and makes sure she gets to witness all the important milestones and gets to attend all the kids' school activities and field trips.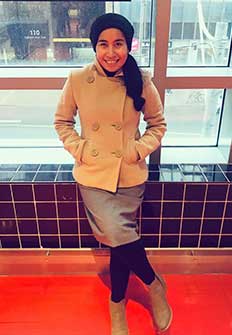 Jenny Rico
Immigration Consultant
Has an Immigration Consultancy Diploma from the CDI College, North York, Ontario. She is a very compassionate person who understands the clients' requirements.
It is not surprising that Jenny has endeavored to have a career in the immigration field as it is her passion to help people reunite with their families and seek for a brighter future through migration. Jenny's passion and dedication to her duties lead to our clients' satisfaction.
She is a graduate of the University of the Philippines – Los Banos with a degree of Bachelor of Arts in Sociology. Her ten (10) years of extensive client and customer service experience both in the Philippines and in the United Arab Emirates is an asset to JCA Law Office. Although she's new to the legal field, her patience and devotion intimately acquainted her with recognizing and meeting our clients' needs.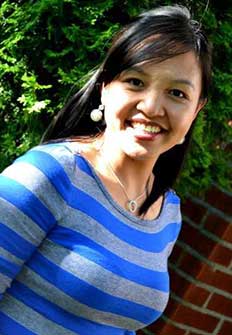 Jovelyn Roman
Immigration Assistant
Jovelyn, or more known as "Jovie" to her family, friends, and colleagues, is JCA LAW's Immigration and Police clearance specialist. While in the Philippines, she took BSC – Entrepreneurship and Small Business Management at Saint Louis University in Baguio City. 18 years later, she took a leap of faith and went back to school here in Canada, successfully completing the 2019 the Immigration Consultant program with honors at Anderson College, paving the way for an internship role at JCA LAW.
Jovie is now part of the JCA LAW Immigration services team providing assistance to clients and fellow kababayans, especially those needing help with police clearances.
Jovie is warm and friendly with a passionate heart to help. Her hobbies include camping, mountain trekking, reading novels and spending time with her family whenever she's not busy.
She can speak Tagalog, Igorot, Ilocano, and English.